Theory & Discourse
Sustainability and Governance | In Conversation with Avny Lavasa
LA 60
Former Deputy Commissioner of Leh, Avny Lavasa, in collaboration with the local Rural Development Department and support from the Leh Autonomous Hill Development Council [LAHDC], started 'Project Tsangda,' an initiative towards sustainable waste management in rural and semirural areas of the district. Intekhab Alam, in conversation with her about the region and the project.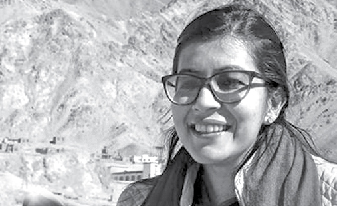 Region and Tourism

The fragility of the region probably has a lot to do with its geography and geology, but in simple terms we can say that, it has a very harsh climate. Such places are rendered sensitive because of the limited availability of crucial resources like water. So Climate Change has a great impact on the resources like water. The region no longer has sufficientwater for irrigation and also for drinking. Thus, it is so crucial to maintain the ecological balance in Ladakh as it will affect the agriculture and, eventually, the availability of food. Nubra and Pangong, that have been developed as tourist spots are being polluted. The region faces water scarcity. In addition, there is also the issue of waste water treatment within the region. The kind of urbanisation that is happening around Leh city is very drastic.

A study or survey of the carrying capacity of the place needs to be done because when we talk of tourism, for example, it's not the main sector and because of this there is so much indiscriminate construction that needs to be controlled. However, there is still enough scope in Ladakh to have sustainable tourism. So it's not necessary what we generally believe that conventional tourism needs hotels and buildings that are fancier. Ladakh can do without all that and instead needs something which is more eco-friendly. This is something that I think the local people understand.

Native Communities

Native communities play a very positive role in the development of any region. People here are aware of the world around them. To have sustained a life in a place like Ladakh for so many centuries is not something easy and if a community has done that, it is evident that they know how to live in harmony with nature. The traditional wisdom is very much there for ways of living with nature. This respect is present in both urban as well as rural areas. And, as the administration, we need to have a framework in place as per their understanding.

The lack of a master plan is very unfortunate and I think it should have been done many years ago. An Ecological Master Plan was to be prepared by the Town Planning Department and Government of Jammu and Kashmir. Secondly, seasons are very important in this region. By the time, a decision is taken, the season for development had already passed. So, I think the time taken for the procedures needs to be reduced. People are ready to co-operate and ready to be a part of the process. The administration's role is to provide a framework and put a system in place. It's not possible without the involvement of the people. But, if we have a proper system out there, then people will happily want to be a part of it.