central asia |
COMUNITY-BASED ECO-PLANNING IN HIGH DRY REGIONS–II
THE UNEP AFGHANISTAN MODEL | Jon Coe
LA 69
This is the second of a two-part series article [Context & Strategy, and Practical Applications] describing my work as a landscape architect and environmental planning consultant to the United Nations Environment Programme [UNEP] in Afghanistan collaborating with the Afghan National Environmental Protection Agency [NEPA] and several other government bodies at national and state levels. This work, of Practical Applications, occurred during nine of the eleven visits I made to Afghanistan from 2009–2016.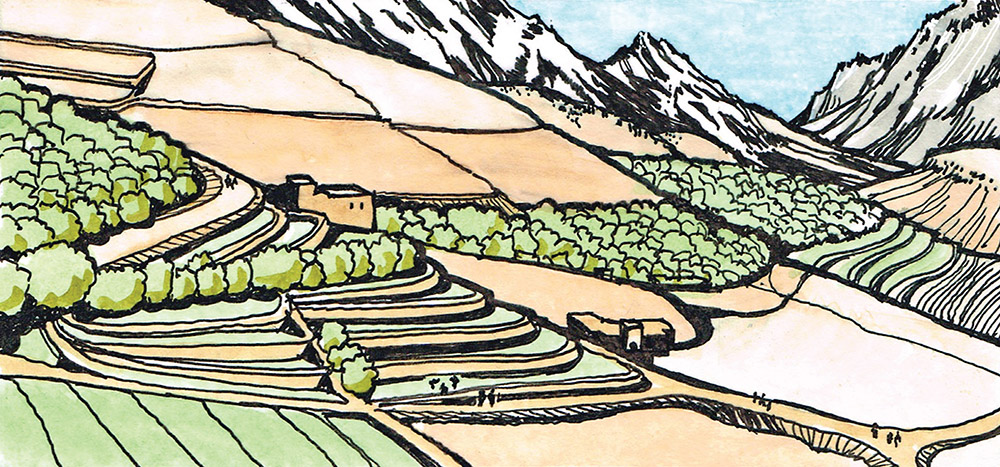 PRACTICAL APPLICATIONS OF COMMUNITY-BASED LANDSCAPE ECO-TECHNOLOGY

I am reporting on our environmental planning and design work in Afghanistan in two stages, the strategic, the subject of the first article, and the practical. It is important to remember that both areas are functionally inseparable, each stage informing the other. Both aspects of our work were guided by principles of respect for traditional knowledge and community-based decision making [bottom-up programs with top-down support] and ecologically based, regenerative, restorative, and self-sufficient [eco-tech] programs. The resulting outcomes were funded by international aid agencies under two main programs, Climate Change Adaptation and Disaster Risk Reduction. The UNEP is principally a scientific support, research, and policy organization in the fields of climate action, nature action and chemical and pollution action. However, they believed developing and field testing practical and detailed ecologically based rural land management applications for dry land mountain villages along the 3000m contour was an important proof-of concept for our sustainable rural livelihood strategies described in the first article.